Home Products BIO PREMIUM Hydraulic Oil (HEES)
BIO PREMIUM Hydraulic Oil (HEES)
LUBECO™ PREMIUM Hydraulic Oil is an ultimate performance, fully synthetic, zinc-free, readily biodegradable hydraulic oil based on fully saturated synthetic esters. A special additive package delivers outstanding extreme pressure properties, thermal oxidation resistance, anti-wear and non-foaming control.
Extra high Viscosity Index of PREMIUM Hydraulic Oil provides extremely wide operating temperature range and greater fluid stability. PREMIUM Hydraulic Oil allows for extremely long oil-change intervals "lifetime fill"resulting in cost effectiveness and CO2 emissions reduction.
PREMIUM Hydraulic Oil is produced at viscosity classes: ISO VG 15/22/32/46/68/100
Industry Performance Standards
HEES : ISO 15380
EU Ecolabel licence no. CZ/27/022
Environmentally Acceptable Lubricants (EALs) US EPA Vessel General Permit 2013 (VGP)
MPI Approved C15 Maintenance Compound (Non-Dairy)
Areas of Application
PREMIUM Hydraulic Oil is designed to meet the most demanding requirements of hydraulic applications. PREMIUM Hydraulic Oil is particularly recommended for operations in environmentally sensitive areas (off-shore, marine, power plants, forestry, earth-moving, construction, agriculture, etc.)
Characteristic Features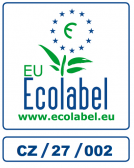 Ultimate performance and anti-wear protection
Outstanding thermal oxidation stability
Wide operating temperature range, very low pour point
Extremely long oil-change interval "lifetime fill"
Neutral to seal materials and elastomers
Readily biodegradable; non-toxic, CO2 emissions reduction
EU Ecolabel Certificate of Environmental Excellence
Documents
Parameters
ISO-VG viscosity classification
ISO VG 46
Base Oil
Synthetic oil
Kin. viscosity at 40 °C

The viscosity of a fluid is a measure of its resistance to gradual deformation by shear stress or tensile stress.

46 cSt
Density at 15 °C
908 kg/m3
Kin. viscosity at 100 °C
9.5
Viscosity Index

Viscosity Index (VI) is a measure of the change of viscosity with temperature. The higher the VI, the less is the viscosity affected by changes in temperature.

>190
Pour Point

The pour point of a liquid is the temperature below which the liquid loses its flow characteristics.

<-50 °C
FZG Test
>12
Iodine Value
<10
Biodegradability in 21 days
>90 %
Need more information?
Contact us please for additional information e.g. request of MSDS etc.
We will reply to you as soon as possible.