Home News KWF certification of technological excellence
KWF certification of technological excellence
LUBECO range of Bio Bar&Chain Oils has been awarded the prestigious KWF certificate.
---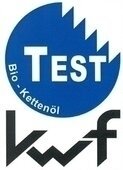 Test results can be found on the following link - KWF
The German Center for Forest Work and Technology (KWF) is the competence centre for forestry work, forestry technology and wood logistics in Germany and Europe and provides advice to all key players in the forestry, wood and bio-energy sectors.
As a transnational non-profit organization, the KWF focuses on all major tasks for securing the future, avoiding accidents and protecting the environment in a precautionary way.
The KWF is the only organization that examines and certifies forestry technology, tools, supplies and protection equipment at the national and transnational level.
---
Relevant Products
LUBECO™ Bar & Chain Oil 220 is an extra heavy viscosity lubricant for commercial and industrial use.
Product Detail
LUBECO™ Bar & Chain Oil 100 is a medium-heavy viscosity chainsaw lubricant most popular for arboricultural commercial and domestic chainsaw use.
Product Detail
LUBECO™ Bar & Chain Oil 150 is a heavy viscosity chain bar lubricant recommended for commercial use in harvesting / processing heads and chainsaws.
Product Detail