Home News Test of LUBECO Bio Bar & Chain Oils against Premium Mineral Oils in tough NZ conditions
Test of LUBECO Bio Bar & Chain Oils against Premium Mineral Oils in tough NZ conditions
A leading forestry management company in New Zealand PF Olsen has been promoting the use of biodegradable oils among its harvesting contractors for number of years.
---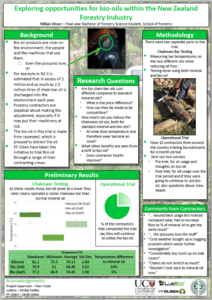 PF Olsen's market leading initiative has now been supported by official research in cooperation with the School of Forestry at University of Canterbury. A rigorous testing of our LUBECO Bio Bar & Chains Oils shows clear performance benefits against mineral oils.
For full article from PF Olsen company follow this link.
---
Relevant Products
LUBECO™ Bar & Chain Oil 100 is a medium-heavy viscosity chainsaw lubricant most popular for arboricultural commercial and domestic chainsaw use.
Product Detail
LUBECO™ Bar & Chain Oil 150 is a heavy viscosity chain bar lubricant recommended for commercial use in harvesting / processing heads and chainsaws.
Product Detail