ECO 4T OIL
LUBECO™ ECO 4T is a premium quality, fully synthetic four-stroke engine oil for high performing petrol and diesel engines requiring the use of SAE 30 oil grade.
ECO 4T is an environmentally friendly alternative to the usual mineral oil based products.
Industry Performance Standards
Areas of Application
ECO 4T Engine Oil is designed for use in high performing petrol and diesel engines of small gardening, agricultural and municipal equipment with SAE 30 specification.
Characteristic Features
Excellent lubrication
High performance
Improved Engine wear protection
Easy start at low temperatures
Extra cleanliness of internal engine parts
Environmentally friendly
Documents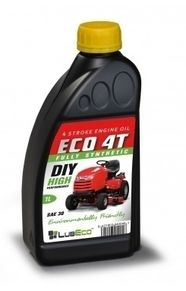 Parameters
Base Oil
Synthetic oil
Kin. viscosity at 100 °C
11.2
Viscosity Index

Viscosity Index (VI) is a measure of the change of viscosity with temperature. The higher the VI, the less is the viscosity affected by changes in temperature.

150
Flash Point
220 °C
Pour Point

The pour point of a liquid is the temperature below which the liquid loses its flow characteristics.

-35 °C
Evaporation Test, Noack
7 % vol.
TBN
8 mg KOH/g
Need more information?
Contact us please for additional information e.g. request of MSDS etc.
We will reply to you as soon as possible.