BIO 2T OIL
LUBECO™ BIO 2T is a premium quality, fully synthetic, low ash two-stroke engine formula offering excellent lubrication properties and an improved engine wear protection.
BIO 2T is readily biodegradable and presents an environmentally friendly alternative to the usual mineral oil based lubricants without compromising performance.
Industry Performance Standards
ISO-L-EGD (JASO FD)
ISO-L-EGC (JASO FC)
API TC
Husqvarna
Areas of Application
BIO 2T Engine Oil is specifically designed for air-cooled two-stroke engine applications involving extreme levels of engine temperature, engine speed and torque. An ideal lubricant for use in chainsaws, brush cutters, trimmers and other commercial and domestic equipment.
Characteristic Features
Excellent lubrication at extreme temperatures
Improved engine wear protection
Perfect miscibility with petrol
Easily biodegradable
Greater protection against rust and corrosion
No residue in the engine and on the pistons
Reduced exhaust smoke
ISO/Jaso Engine Test Results
Engine Test
Index
Result
Min. Limit
Specification
Exhaust Blocking
BIX
134
90
ISO-L-EGD/JASO FD
Smoke
SIX
109
85
ISO-L-EGD/JASO FD
Lubricity
KIX
102
95
ISO-L-EGD/JASO FD
TIX
101
98
ISO-L-EGD/JASO FD
Documents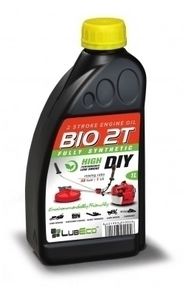 Parameters
Base Oil
Synthetic oil
Kin. viscosity at 40 °C

The viscosity of a fluid is a measure of its resistance to gradual deformation by shear stress or tensile stress.

45 cSt
Density at 15 °C
886 kg/m3
Kin. viscosity at 100 °C
min 7.5
Viscosity Index

Viscosity Index (VI) is a measure of the change of viscosity with temperature. The higher the VI, the less is the viscosity affected by changes in temperature.

140
Flash Point
>90 °C
Pour Point

The pour point of a liquid is the temperature below which the liquid loses its flow characteristics.

-47 °C
Acid Value
max 1 mg KOH/g
Biodegradability in 21 days
>90 %
Need more information?
Contact us please for additional information e.g. request of MSDS etc.
We will reply to you as soon as possible.